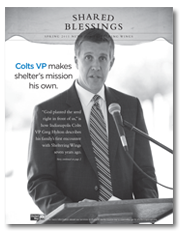 "God planted the seed right in front of us," is how Indianapolis Colts VP Greg Hylton describes his family's first encounter with Sheltering Wings seven years ago.
Greg explains that he and his wife initially contacted the shelter about providing Christmas gifts to families staying there. The shelter's faith-based mission resonated with them, prompting Greg to sign on first as a volunteer and then as a board member. He is now beginning his second year as Board Chairman. As head of the Colts' premium seating and ticket sales, Greg has been able to bring the mission of Sheltering Wings to the attention of many new supporters. He is quick to give credit for his ability to be as involved as he is to Colts owner, Jim Irsay, saying "Mr. Irsay leads by example and does a great job himself. He challenges us all to get involved in the community. I feel that when I'm representing the shelter, I'm also representing the Colts." About the many other companies and individuals Greg has introduced to the shelter, he says, "These are good people who are looking for ways to reach out to the community. It's really just a matter of making them aware of the shelter and its mission." Like Greg, many donors are attracted to the faith-based component of Sheltering Wings. As Greg says, "They may have heard of the shelter before, but didn't realize that we have things like a pastor on staff and voluntary bible study for shelter residents. It's something that is here for the women who want to work toward healing spiritually as well as physically." Greg's experiences in working with the shelter have made a strong impression on him personally. He says, "You can see God working here. When we have a need for something, it shows up…within hours. I just don't know where else I could go and see that kind of impact." When speaking about his involvement with the shelter from a father's point of view, Greg says simply, "I hope I'm setting a good example for my kids." With two daughters just entering the teen years, he's especially troubled by the percentage of teens involved in dating violence. "I had no idea it was so prevalent," he says. "I want to make my daughters aware of this problem and how harmful it is to our society." Greg has also been taken aback by the sheer number of calls for help coming into the shelter. "We had 1,415 crisis calls this past year. That translates to more than four calls a day," he expresses with surprise. "We're expanding right now in our effort to help support the women and children who come to us for assistance…to help them realize that what they're experiencing is not the norm, and that it is possible to be in a loving relationship." Ultimately, Greg says that he wants to help the shelter end the cycle of domestic violence, and as he says, "We are being very proactive in talking with schools about educating teens on this topic. On stopping the cycle before it gets started." He adds, "I hope that people understand the impact that this place has on the community, and I hope that they'll continue to support the shelter, both financially and with their time." After all, he says, "We are here first to help heal the women who come to us for help. But if we can stop it before it ever starts, we're going to make this a much better community."
If you know of someone or are that someone who needs help please call 317-745-1496 or send a confidential email to larrison@shelteringwings.org.
Download a copy of this newsletter to learn more.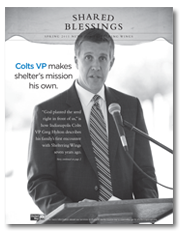 Shared Blessings Spring 2011