Courtyard Brick Paver
Leave a lasting mark with this commemorative 4″ x 8″ brick in the courtyard of Sheltering Wings. You may include an optional 2-line message (limit of 19 characters* per line) by entering your message below.
Simply click "DONATE" when you are ready to submit your order and finalize credit card or PayPal payment through PayPal services.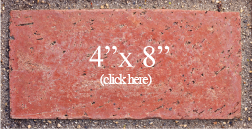 Cost: $100